Our Curriculum
At Suffolks Primary school, we value each and every child's education and aim to provide a broad and balanced curriculum. We strive to provide a diverse curriculum, which celebrates our community and our people, enabling our children to feel confident in the world around them on their journey to becoming global citizens. Our curriculum is relevant and engaging for all children and ensures that no child is left behind. We encourage adherence with the fundamental British values as well as promoting the spiritual, moral, social, cultural, mental and physical development of all of our children through the following aim:
'Our aim is for all to understand the world around them and the talents within them so that they can become fulfilled individuals and active, compassionate citizens.'
(Creative schools: Revolutionizing Education from the Ground Up)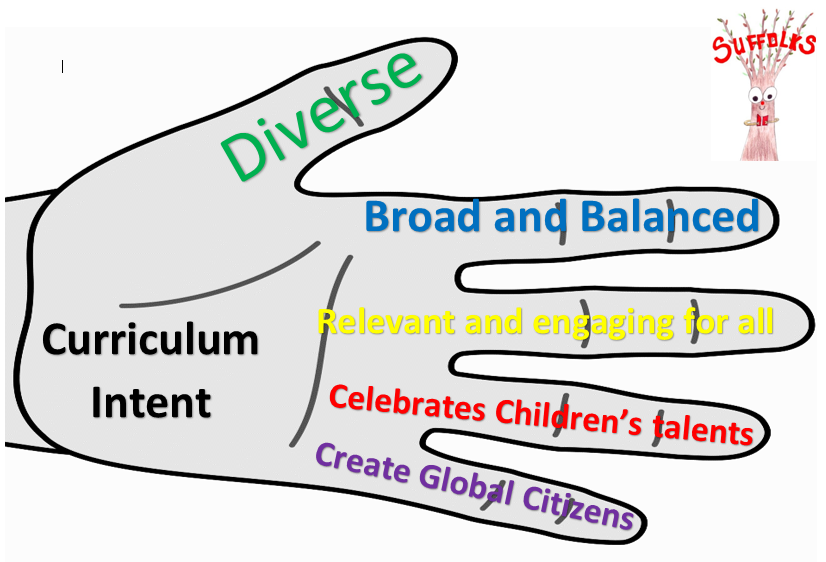 Through our curriculum design, we ensure that our core values of Respect, Excellence, Responsibility and Friendship are reflected throughout. We hold themed 'Special Weeks' such as Friendship Week, Our History Week, Enterprise Week and Creative Arts Week as well as planning a range of trips and visits to broaden the children's cultural capital. Core curriculum areas are taught throughout the year. Each term, we focus on a selection of foundation subjects which results in a final whole school project. For example, in the Autumn term, we focus on Design and Technology and French which is then celebrated by creating products for our French Christmas market. This approach allows us to provide a broad and balanced curriculum over the year as well as the scope to delve deep into knowledge and skills needed for each curriculum area.
As a school, we ensure that our curriculum protects the nine characteristics outlined within the Equality Act 2010 (age, disability, gender reassignment, marriage and civil partnership, pregnancy and maternity, race, religion or belief, sex, sexual orientation). We have 2 diversity leads, who look to ensure that our curriculum is representative of our community and celebrates its diversity.
For further information about the implementation and monitoring of impact of our curriculum, please see our curriculum and assessment policies.
To see what we are learning in each year group and each subject, please use the links to the right.